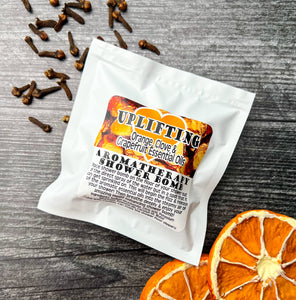 ORANGE, CLOVE, & GRAPEFRUIT ESSENTIAL OILS
Everyone loves to turn their shower into a perfect spa getaway! Each bomb is a blend of the essential oils listed with them. See the Ingredients Picture for exact essential oil blends & their names. Our Aromatherapy Shower Bombs are Essential Oil-based, perfect for you to enjoy during every shower. Ingredients: coconut oil, citric acid, baking soda, water, essential oils.
SAFETY: Like all bath & body products, take care, these can possibly make your shower slippery.