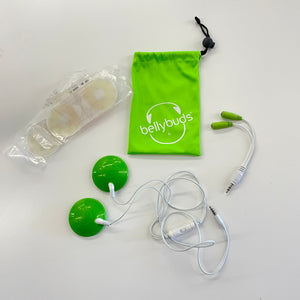 Like new.
From their website:
Safely play music and voices directly to the womb
Included audio splitter allows you to listen simultaneously
Adheres to skin with reusable, medical-grade SafeBond® adhesives (replacement adhesives available separately)
Adjustable, comfortable and lightweight
Easy-on, easy-off with no straps, belts, or buckles
Discreet under clothing
Compatible with WavHello's free VoiceShare mobile app
Product Includes
BellyBuds speakers
2 pairs of SafeBond® adhesives (appx 1 mo. worth)
Audio splitter
Storage pouch
Free digital content
*BellyBuds is manufactured with a standard 3.5mm headphone jack. If you would like to use BellyBuds with a device that only supports a lightning connector (iOS/iPhone) or USB-C (Android), please choose an adapter here or you can also request one their website.